Welcome to Year 3/4. We are Tiger Lily Class!
Miss D Taylor, Mrs W Rhodes and Miss C Hale
Our Learning Journey begins here...
Week 3 - This week we have spent lots of time looking out our class novel 'The Great Kapok Tree' by Lynne Cherry. We have written our own versions of the story and even made our own story books! We have also looked at our new online learning platform EdShed where children can practise their maths and spellings. The children have their own personal log ins that have been sent home. Congratulations to Filip and Bradley who have reached 100/100 on the TT challenge! Just a quick note to say we are NOT doing Forest Schools this half term so children need to come to school in full uniform every day. Please send your child with a warm coat every day as the weather starts to get colder.
Well done to our stars of the week Maisie-Leigh and Lilly C!
Week 2 - It has been lovely to be back learning in the classroom. We are finding our new rainforest topic very interesting! We have learnt all about orangutans and palm oil. Ask your children why palm oil is causing the Orangutans to become extinct. We have also had two new arrivals. Our class fish has had two babies. (Fish babies are called fry). This week has been lovely and Miss Taylor is so proud of us as always.
This week our stars of the week are Zak and Rosie!
Week 1 - Wow, what a strange week it has been for Tiger Lily class! This week we have been doing all of our learning from home. The children have adapted to this change exceptionally and I am so proud of all of them. The children have taken responsibility for their own learning and taken everything in their stride. A huge well done to Tiger Lily class and I can't wait to see you all back in the classroom on Monday! Please bring any home learning you have completed and your homework books.
This week our stars of the week are Charlie and Oliva-Rose!
Autumn 1
Welcome back to school - take a look at our classroom!
I hope you are all as excited as I am to get back to school! I have been working hard over the summer to make sure that the classroom is ready for your return. I have lots of great things planned for us to do together this year. Here are some important days for you to remember:
On Monday afternoon we will have our PE lesson, please bring your full PE kit.
On Thursdays we have forest schools ALL morning, so make sure you are wearing appropriate clothing and shoes. We will be going out whatever the weather!
At the moment swimming isn't taking place, more information is to come about this!
Please make sure your children bring their school water bottles if they brought these home over the summer. As well as this please bring book bags!
Thanks for your continued support,
Miss Taylor.
Week 1 - We have been looking at the Stone Age. We have really enjoyed our first week together in Tiger Lily class, we have done lots of fun stuff including Forest Schools! We have looked at our class book 'Stone Age Boy' and are looking forward to finding out more about the Stone Age as part of our Topic. Next week PE is on Monday and Forest Schools is on Thursday. Please can adults send any reading books children still have at school.
This week our stars of the week are Alex and Maisie. Take a look at Maisie's amazing bike that she created in forest schools!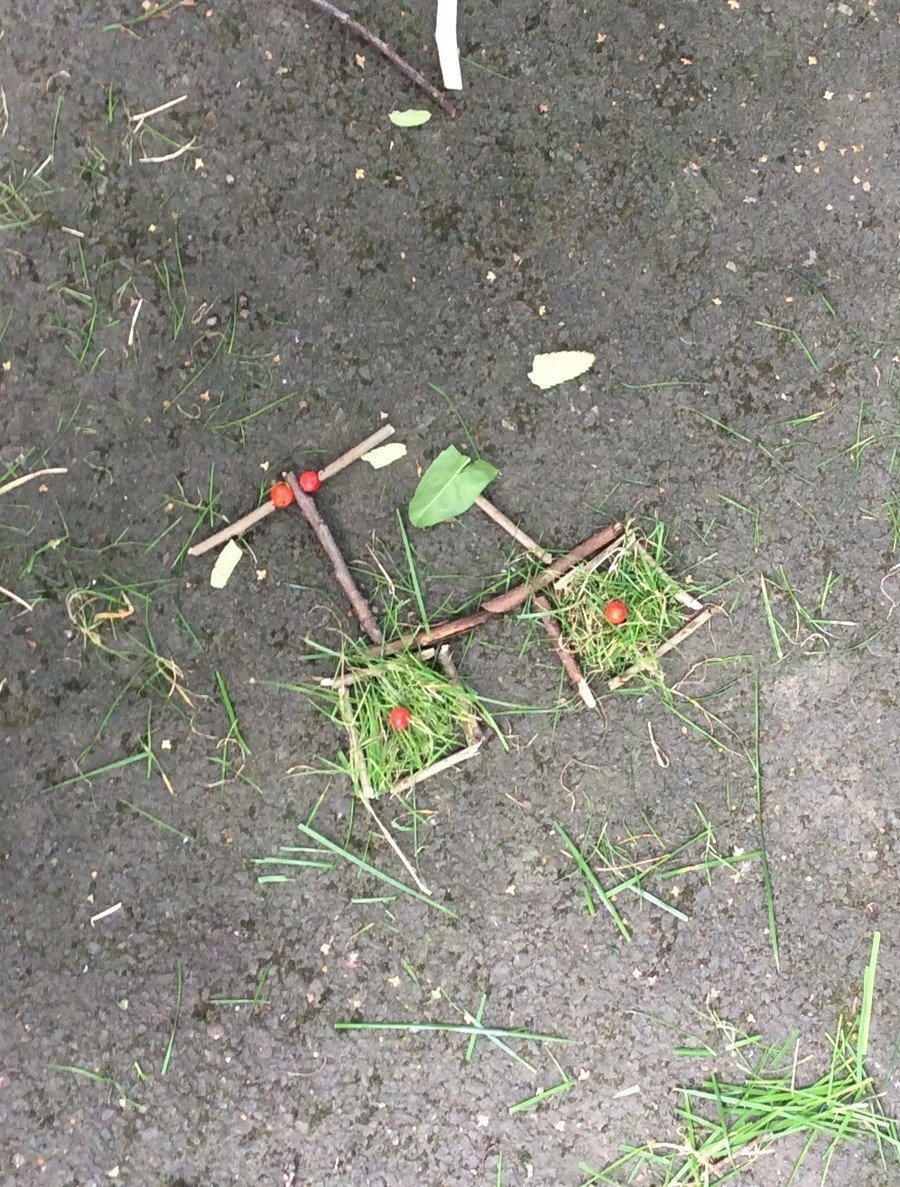 Week 2 - This week in Tiger Lily Class we have been doing lots of writing based on our class book Stone Age boy. We had an amazing time at forest schools learning all about different types of trees. Please could parents remember to send your children with coats on a Thursday as we are outdoors all morning at forest schools. Thanks, Miss Taylor.
This week our stars of the week are Alfie and Olivia-Rose!
Week 3 - We have carried on with our Stone Age topic this week. We made our own Stone Age books and learnt a Stone Age song.
This week our stars of the week are Eugene, Filip and Bradley!
Week 4 - We have had a lovely week in Tiger Lily class. We have been so busy doing lots of learning. We have been looking at money and adding it together in maths. We have been comparing the Stone Age to the present day and have looked at Otzi the Stone Age mummy. In forest schools we even learnt how to safely make fire! We are enjoying our class novel 'The Wild Way Home' and can't wait to find out who the boy in the river is next week!
This week our stars of the week are Maisie-Leigh and Kenzie!
Week 5 - Wow, what an amazing week we've had in Tiger Lily class! There has been lots of fantastic learning going on. In Literacy we have been thinking about Stone Age Boy and what we would like to ask him, then we used our drama skills whilst pretending to be him on the hot seat! In maths we have been looking at money and adding and subtracting it. We had an amazing time in forest schools building debris shelters for Otzi the Stone Age man.
This week our stars of the week are Lydia and Layton!
Week 6 - we are getting to the end of our Stone Age topic and have loved every minute of it. We've had a great week full of hard work and lots of fun! All children now have reading books, please send your children with these every day in book bags if possible.
This week our stars of the week are Kaitlin and Eva-Lee!
Week 7 - We have come to the end of our Stone Age Topic, we are excited for next half term to learn all about rainforests! We have had a lovely week and even got to carve pumpkins and have a spooky Halloween party. All children have been sent home with homework books and reading books for over half term.
This week our stars of the week are Taylor and Billy!