Welcome to Year 5/6. We are Mr Finch's 31 Dalmations. Mr Finch takes the 'lead' and is joined by Miss Hunter.
Welcome back Year 5/6. Our new topic for this half term is "Evolution and Inheritance". Evolution means 'The way living things change over time.' When living things reproduce, they pass on characteristics such as eye colour, skin colour and height. This is what 'inheritance' means. See below for planning and homework grids.
Well here we are - the last week before Easter. Well done to each and every one of the class for putting in so much effort to catch up over the last few weeks. It's been tough, but we've shown that hard work pays off, and seen some great results in our assessments.
Enjoy your two weeks off, and come back fully refreshed. Our next topic - Why was England split into two countries? Life in Anglo Saxon England.
Our local archaeologists found some interesting items in the grounds just north of our school...
We've had a tough week in year 5/6 - lots of assessments and catching up going on in class. Well done to Ajay and Harrison, lots of progress made!
In English - our Charles Darwin biographies are now finished. Look out for a display soon...
In French, we have been discussing our food likes and dislikes and playing battleship. In Forest Schools, we have been looking at the fossilisation of dinosaurs. See below for a picture of our archaeological 'dig' that we performed outside yesterday. I wonder what we will find next week?
Keep it up year 5/6 - one more week to go.
Week 3 - well done Year 5/6 for another stellar week. In Maths, we have been moving forwards with those 4 operations. All the class have made great progress with this.
Our Charles Darwin biographies are almost completed, and will form an amazing display along with our beautiful sketches.
By far the highlight of our week was the battleship game in Forest Schools. The class created their very own 'grid' and had a life-sized game!
Well done Year 5/6. Keep up the good work.
Week 2 down, and well done to Year 5/6 for another great week. We have been looking at long multiplication this week ; getting to grips with 2x2 and 3x2. It has been tough, but we have all made sound progress.
In Science, we have concluded our experiments. We discovered that although we get our genes from our parents, we do not get ALL genes from one parent. So, just because our father is tall, does not mean we will be also!
In English, we are continuing looking at the great life of Charles Darwin. We have done some artwork, and began our biographies. There will be a superb display up next week - I can't wait to see all our work up there.
What a great first week back Year 5/6. This week, we've looked at the age of the earth. Did you know that if the earth was 24 hours old, then humans have lived for only the last second?
In Maths, we have been consolidating our long multiplication skills. All of the year fives are making superb progress - and are getting faster and more accurate by the day.
In English, we have been setting up our very own Science experiment. The class have chosen their own questions, and will be studying inheritance. Questions include: Are all adult females taller than their mother? If a man is bald, is his father bald? Always answering the important questions in Year 5/6!
Well done to Charlie D and Jasmine for being our stars this week. Fantastic progress and work by both.
Can you see Eunice on the left hand side of this photo? Imagine she is on a timeline, and she is the beginning. This is the start of the Earth, 4.7 BILLION years ago. If you can see Lacey G (in the yellow coat) she represents where the first animals evolved (seven hundred million years ago). Right at the end, we can see Gracey, Lillie and Lexi. Gracey represents the end of the dinosaurs, Lillie represents the start of humanity, and Lexi is the present day!
Our learning journey begins here...
Take a look at the planning files for this term.
What if the Earth was just 1 day old? Watch and be amazed!
Well - we are nearly there. Another good week in Year 5/6. Well done to the class for doing very well in maths this week - co-ordinates aren't always easy but you made light work of it. In English, we have focused on writing in the style of David Attenborough, and we have some fantastic work completed.
Just one week to go - it will be action packed. We will work hard (as we always do) and will enjoy the festivities.
Special mention to Lacey in year five, who is in this week's Goldbook for being an absolute superstar. Trustworthy and dependable. Also, Niamh for her first 30 out of 30 on Ninja maths. Year fives are rarely at strong as this one.
Week 5
We're well into December in Year 5/6, but the hard work does not stop - well done to the class this week for getting to grips with shape. Quadrilaterals are not easy to master, and a lot of vocabulary is needed to master the subject, but we have done extremely well.
In English, we have been writing in the style of Sir David Attenborough, about a fictional animal found somewhere in the world. Some great writing has come from this.
Well done to our Goldbook children. Frankie has been showing some really mature behaviour this week, and Shelby wowed us all with her singing on our class song.
Keep it up year 5/6 - not long to go now.
Week 4
As we glide into December, we come to the end of another week at Streethouse in Year 5/6. The weeks are always good in year 5/6, and this was no exception. We have done some excellent newspaper reports about the Battle of the Cowshed this week. Who knew an Army organised by pigs could defeat Mr Jones and his men? The maths this week has been superb - well done especially Year 6 for doing a full assessment week. You've shown that you are a very hardworking team. Year fives - you have so much potential for next year. Keep it up!
Special mentions this week to Oliver for his fantastic newspaper report, and Kian for his great maths work.
Week 3
Another week down in Year 5/6 - don't they fly by? The class have had some assessment in maths this week, and I can hardly believe how well they have done. Since September, they have worked so hard, and the results are paying off.
In English, we have looked at the Battle of the Cowshed. Ask your child how Snowball studied the diaries of Julius Caesar and defeated Mr Jones and his men. We are producing Newspaper reports about this epic battle.
In Maths, we have been looking at percentages, and ensuring that we have a solid foundation in working out 50%, 25, 10% and 5%. We have been linking them to fractions, and making sure we can change them quickly from one form to another.
Well done in particular this week to Darcie, who has improved so much in maths this term. It's really pleasing to see. Also well done to Lillie, who is a very capable pupil, yet very modest and humble about it all. Both of these are a pleasure to have in the classroom.
Week 2...
Well done year 5/6 for another great week. We've been reading our new novel 'Animal Farm' by George Orwell, and we find ourselves agreeing with Old Major about the treatment of the animals on the farm. I wonder if his plan will work out?
In maths, we have begun work on percentages. We've found the concepts tricky, but are certain to get there.
Well done to Charlee-M and Charlie R for their responsibility in representing the school on Remembrance Day.
Remembrance Day 2020.
Our head boy and head girl represented the School on Remembrance Day 2020.
Week 1
It looks like we've started the half term as we finished the last one. We've been working hard this week on fractions - converting from proper to improper and back. We have a good understanding of them, and are ready to move on to Mr Finch's favourite topic - percentages!
We have been looking at WW1 this week, and answering the question: How did Soldiers see above trenches? We made periscopes to prove that light travels in straight lines.
We also began our sequence of lessons with Forest Schools.
Welcome back to our school! Take a look at our classroom.
Welcome back to Year 5/6. I'm very excited to get back into school, and in a place of learning.
Mondays is PE day, but bring your kit Monday and leave it for the week. We will be doing daily mile, or outdoor learning sessions that require outdoor kit/footwear.
Swimming will be Wednesdays, but does not start until the end of October - stay tuned for further updates.
We have water bottles in school, so there is no requirement to bring one.
Week 1
We have been looking at the Boy in the Striped Pajamas. Take a look at Niamh's letter to Bruno's friends (in character).
Week one stars of the week - Jack for outstanding behaviour, and coming back to school like he means business! Darcie for an excellent start to the week - you have so much potential!
Homework - Place value. Bring these in on Monday 14th September please.
This week, we have been looking at the Blitz. Check out Tyler's Blitz painting!
Week 2 Stars of the week. Tyler for a wonderful piece of Blitz artwork. David for an amazing piece of writing.
First of all,

congratulations

to Charlie and Charlee-Maddison for winning the position of head boy/ head girl.
I'm sure they will make everyone proud. Jack and Gracey are deputy head boy and girl, and will have another important role.
This week has been a great week for Year 5/6. We looked at WW2 evacuation, and how it affected children and adults alike. We have been watching 'Goodnight Mr Tom' to support this.
In maths, we've looked at multiples and factors, and even played the classis game of 'Battleship' with a Mr Finch-inspired factors and multiples twist.
Check out Olly's tank sketch below!
Week 4
Where did the week go? Year 5/6 have had a tremendous week. In Maths, we have progressed so much in long multiplication, and we have completed some extremely difficult grid method questions. We have moved on to the full written method, so please make sure your child completes this for their homework this week.
In English, we have been looking at the Holocaust, and specifically Auschwitz. We wrote a very chilling description of the camp, as if we were the Commandant's wife. Check out the website for Lexi's, which is a great example.
Our class have really enjoyed their Samba in music this week.
Wow - week five down! What a great week in Year 5/6. We've been so engrossed in The Boy in the Striped Pyjamas, and although we were really touched by the story, we are sad to see the end of the book. It has been the spark for some tremendous writing!
In Maths, we have made real progress on multiplying and dividing by 10, 100 and 1000. It's a hard concept to grasp, but we have looked at it with many concrete resources, and made some fantastic concertinas to help us (see maths page).
We've had some great Science this week, and investigated the effect length of wire has on a circuit. We made perhaps the longest circuit in ANY primary classroom ever (more than 30 wires) and the circuit still worked!
Keep it up year five six - you've been a pleasure this half term.
Week 6. Isn't it strange how fast the week goes when you're in a superb class? The class are getting better each week. We've been looking at fractions: simplifying them, comparing them and doing all sorts of other things. It's been hard at times, but we've made great progress.
In English, we have moved on from The Boy in the Striped Pyjamas, and onto the Diary of Anne Frank. We've found it moving, and we all admire this great young girl.
The question this week was, if 1/8th of a rod was the same size as 1/9th of another rod, which would be longest? We used Cuisenaire to prove that 1/9th is longer.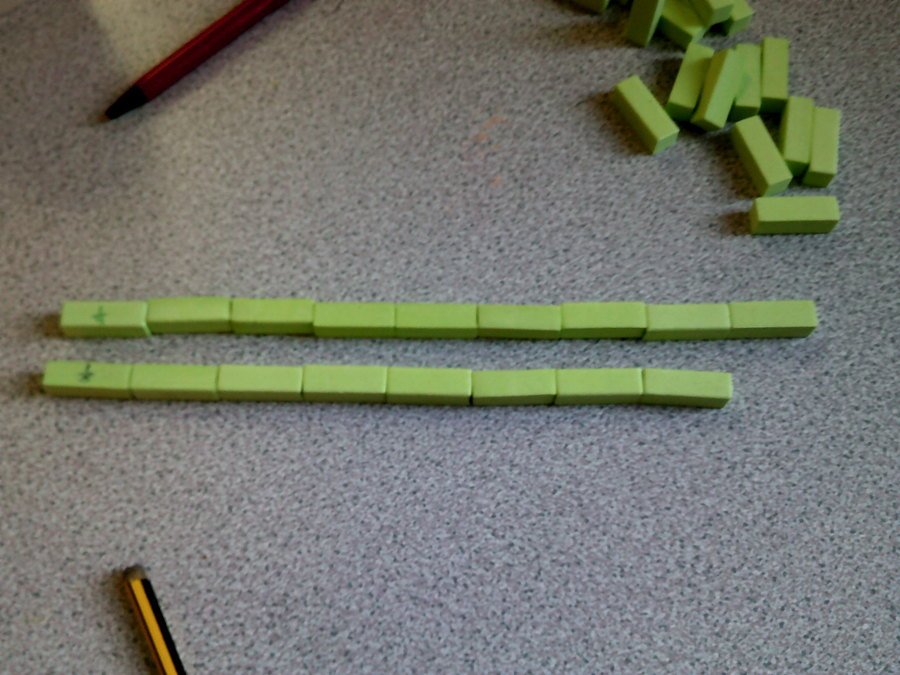 Week 7
Well - we've reached the end. We're off to recharge our batteries and come back stronger and better after half term. Year 5/6 - it's been a pleasure.
This week, we've done some mini assessments to see how much progress we have made. The results were fantastic. It's all down to you. In just over six weeks we've learned so much.
A great topic 'Children in the War' comes to an end. We've really enjoyed it, and it looks like we have some budding historians in my class.
Have a great week Year 5/6.