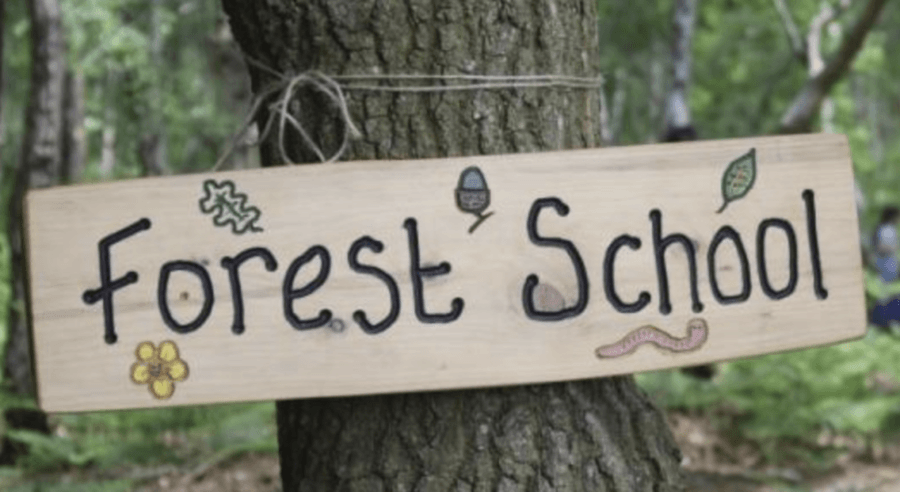 Forest School is a child-centred inspirational learning process, that offers opportunities for holistic growth through regular sessions. It is a long-term program that supports play, exploration and supported risk taking. It develops confidence and self-esteem through learner inspired, hands-on experiences in a natural setting.
Forest School has a developmental ethos shared by thousands of trained practitioners around the world, who are constantly developing their learning styles and skills to support new and imaginative learners. Its roots reach back to the open-air culture, friluftsliv, or free air life, seen as a way of life in Scandinavia where Forest School began. It arrived in the UK in 1993 and has grown from strength to strength since then.
Here at Streethouse School we use Oak Forest School who are based in Barnsley and the inspirational Mr Pearson teaches all our children from Nursery up to year 6 and the children thoroughly enjoy being outside and learning in nature.
Check out Oak forest school by clicking on this link https://www.oakforestschool.co.uk/
The clip below explains a little bit more about what Forest School is and how it can help your children in their learning whilst promoting good mental health and wellbeing

.
Dalmation class were out today looking at the natural resources in our area - namely trees. We will be counting the different species over the coming weeks.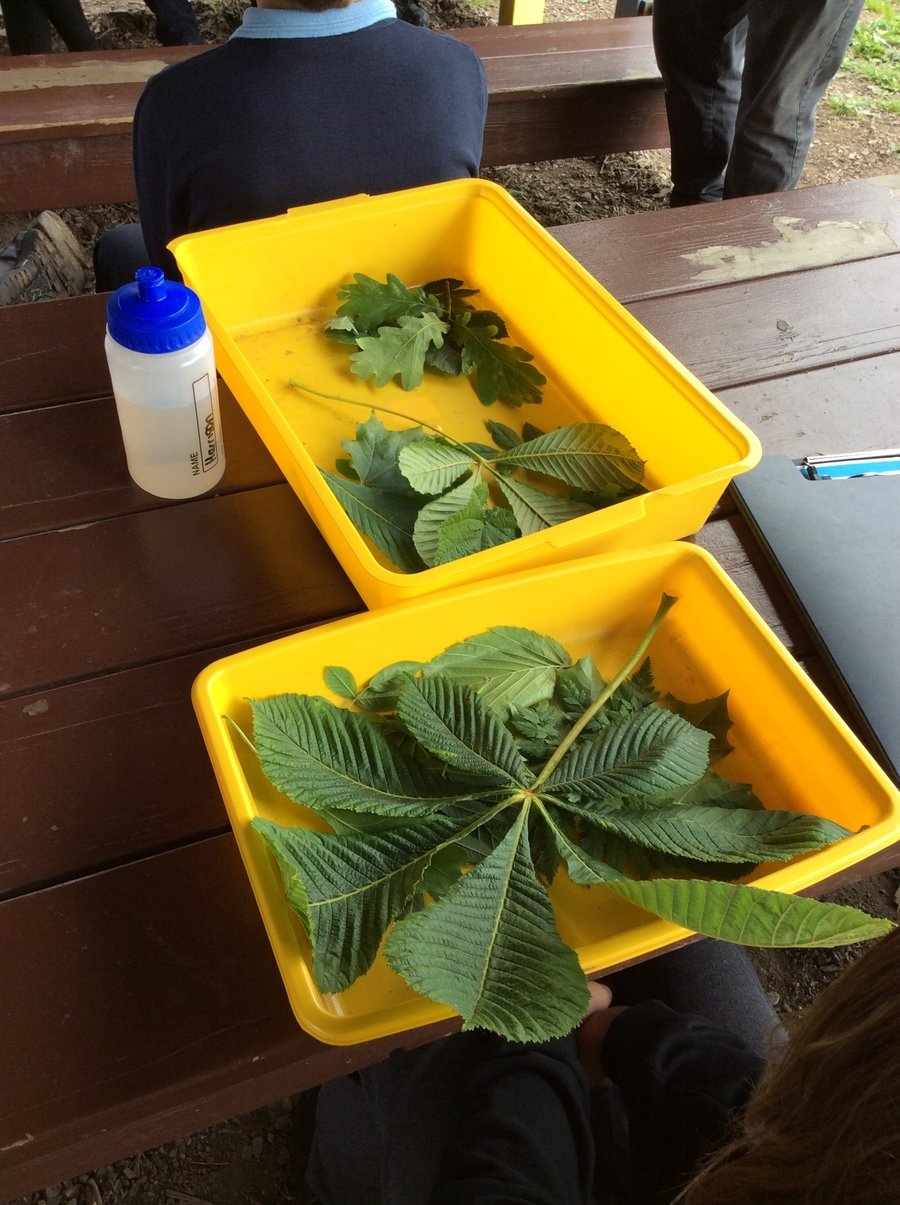 Queen of Hearts class made their own villages using rocks and sticks this week and then drew maps based on what they had created.
Queen of hearts class went on a bug hunt and learned about the importance of keeping insects safe and how to collect them correctly without harming them.
Dalmation class were out exploring the local environment today as part of our 'Natural resources' topic. We have been thinking about the fact that animals are natural resources this week, and went to see what we could find and classify in our school.
Dalmation class found some interesting items during their archaeological dig in the grounds just north of our school yesterday...
Spring
Dalmation Class
Today (in spite of the weather) we completed our very own life-size game of Battleship. All the class helped to create the 'grid', measuring carefully and practising tying knots. Then, we split into two teams and put our 'ships' in the grid. How do you win? Guess the co-ordinates of the other team ships. We had a great time.
Spring
Queen of Hearts Class
This week we learned about different types of fires and collected flammable items which would easily set alight.
We then created a 'house' similar to one from the 17th Century and filled in with flammable materials which would have been inside the houses at the time of The Great Fire.
Spring
Dalmation Class
When archaeologists discover dinosaur bone sightings, they have to be extremely careful to preserve the bones - if they dig too carelessly they can spoil their findings!
Spring
Dalmation Class
The age of the earth is 4.7 BILLION years. Dinosaurs existed from 225,000,000 years ago, until 65,000,000 years ago. How do we know this? Our main information comes from FOSSILS! Here is a recreation of a T-rex fossil, made by Year 5/6.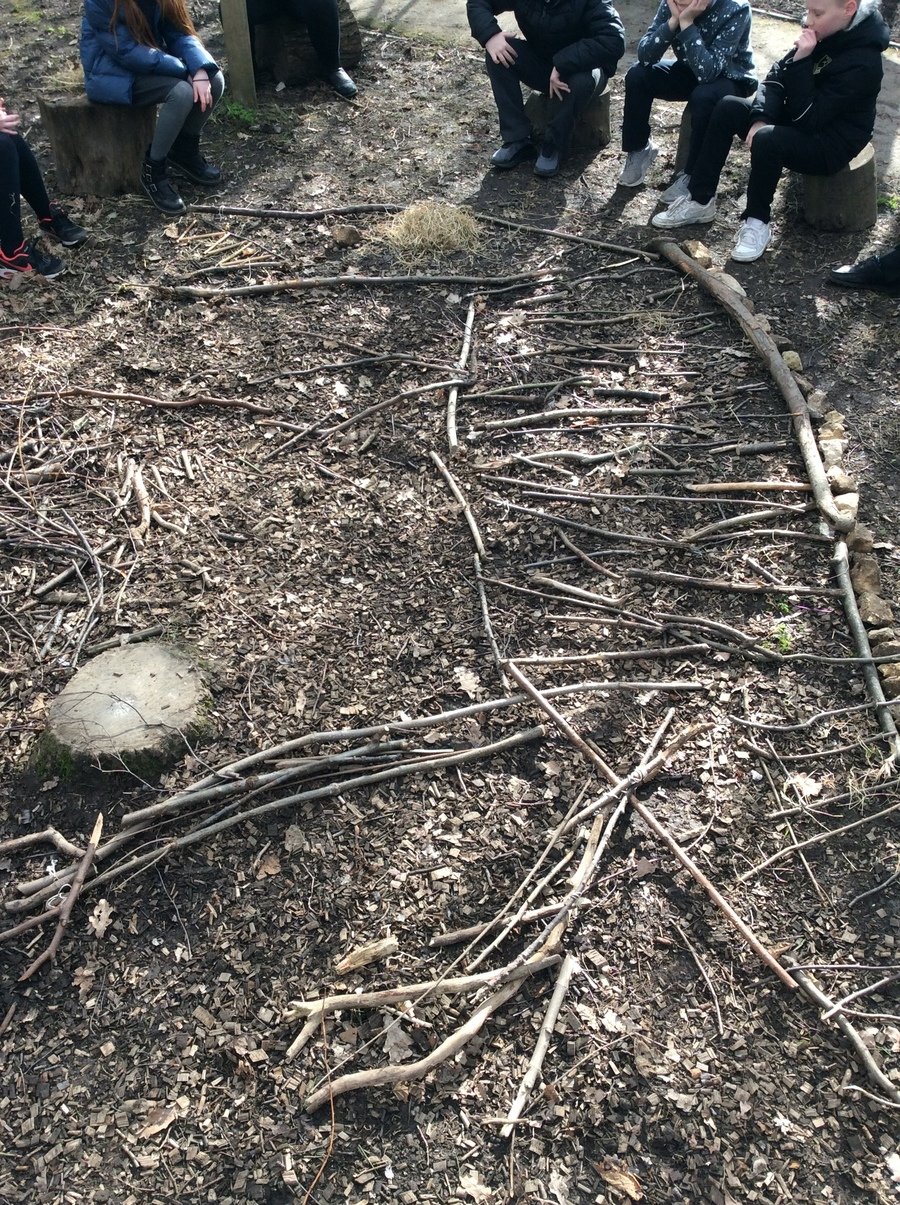 Queen of Hearts Class
Spring
This week we learned all about fire safety and discussed The Great Fire of London. We also went to collect items which would burn well and others that wouldn't to find out which materials burned the best.
Spring
Tiger Lily Class
Mr Pearson let us have a snow day! The snow was so heavy and thick that we managed to build a snowman. We had so much fun and all worked together as a team.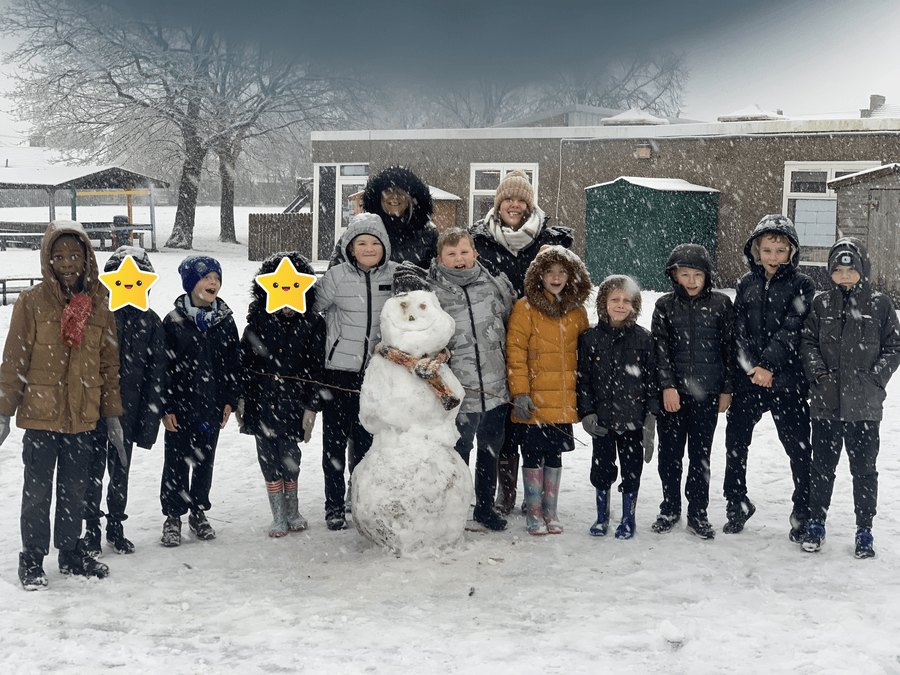 Spring
Tiger Lily Class
This lesson was all about map reading! Mr Pearson gave us a map with a key and we had to follow the map to get to the end. We also made our own aerial view map of our school with sticks and materials from the woods.
Spring
Tiger Lily Class
We made bases out of any materials we could find in the woods. We were in two teams and once our bases were ready we played chase the flag. We had to defend our bases to make sure the other team didn't get our flag. When we got the other team's flag we had to get it to our base to win!
Spring
Tiger Lily Class
This week we made water collectors that we would use to get water out of the River Nile. We had to work in teams to build our piece of equipment. We absolutely loved this week's forest schools lesson.
Spring
Tiger Lily Class
We have had such a fun forest schools lesson, we made our own natural water filters! We were using these to see how the Ancient Egyptians cleaned their water. Mr Pearson let us keep our hands warm with the fire he had made. We had to sit in the safety position to make sure we were safe.
Autumn
Queen of Hearts Class
This week we decorated our decorations using our wood slices from last week and then hung them on the tree to dry.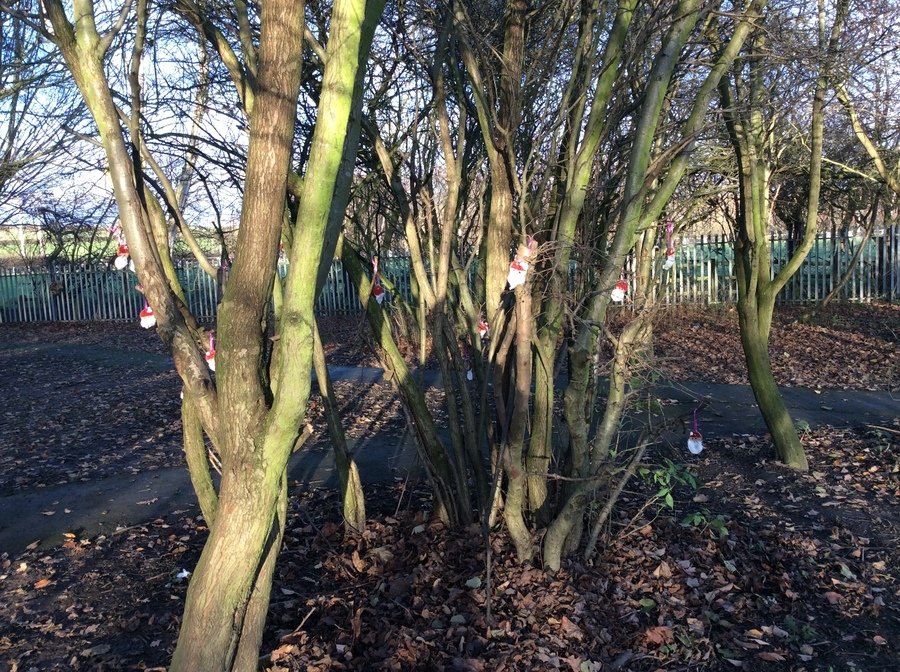 Autumn
Queen of Hearts Class
This week we learnt how to use a hand drill to drill a hole into our ornaments so that we will be able to hang them on our own christmas trees at home.
Autumn
Queen of Hearts Class
This week we have been using the crocodile saw to cut tree branches into decorations ready to decorate and make festive next week . We finished the session by building a small fire and toasting marshmallows.
Autumn
Queen of Hearts Class
This week we have been learning all about friction and how we can use it to make small fires We learnt all about fire safety.
Autumn
Queen of Hearts Class
This week we have been using wood to make The Star /The Shield of David which is a special symbol from the Jewish religion this will help us when we learn about Judaism next week and the story of Hannukah.
Autumn
Queen of Hearts Class
Year 2/3 have been using tools to create wooden jewellery using Elder branches. They then added finishing touches to their bracelets in class to make then sparkly just like the one that Sita threw in the story of Rama and Sita.
Autumn
Queen of Hearts Class
Year 2/3 made a a bonfire with Mr Pearson to celebrate The Gunpowder Plot and the tradition of bonfire night check out our pictures below.
Autumn
Madhatter's class
Year 1/2 finished creating their boats today and checking they had tied their ropes securely so the boat will float. The children then had fun trying to see which of the boats would float the best.
Year 3/4 were given a challenge to make a shelter that Otzi would be able to use to sleep in. The children had to use all resources from the woods that they collected themselves. They worked in teams to make their shelters and they looked absolutely amazing! We have really enjoyed taking part in forest schools this half term.
Autumn
Madhatter's class
Year 1/2 have been learning different ways they can tie knots this week. They then had to go and collect some materials of their own from the forest so they could begin to create a boat using their materials and their skills at tying knots.
Year 3/4 looked at the different tools and weapons that were used in the Stone Age, Mr Pearson brought lots of them to show us. We learnt how they were made and how they were used. After the lesson we had a go at designing and making our own Stone Age tools and weapon
Autumn
Madhatter's class
Year 1/2 did something very exciting this week and were able to use a real saw to cut wood into small pieces. The children then used pipe cleaners and twigs to create an octopus out of their piece of wood.
Year 3/4 learnt all about a man called Otzi the iceman. Otzi was a man from the stone age who got killed. His body got preserved by a glacier and is now shown in an Italian museum. The children found it so interesting to learn all about Otzi and the information that scientists managed to learn from studying his body. We looked at the different types of food Otzi would have eaten and even looked at the mushrooms he would have used as a method of healing wounds! We also learnt how to safely make a fire using the special equipment Mr Pearson gave the children.
Autumn
Madhatter's class
Year 1/2 carried on their learning of their under the sea topic in forest schools this week. The children had to find materials to make an under the sea picture with a frame to really make their picture stand out!
Year 3/4 did a tour of the forest. Mr Pearson showed the children all different types of leaves and gave us information on each leaf and the plant it comes from. We did leaf rubbings for each leaf and wrote down interesting information for each one.
Autumn
Madhatter's class
Year 3/4 children were set a task to make a picture on the floor of a method of transport. They had to do this using natural materials that they found in the woods. The children collected all of their own resources and made their pictures!
Year 1/2 children were introduced to a special owl teddy who needed a home. The children had to use their imaginations and materials they found in the forest to create a a new home for this little owl that would keep him warm and safe!
Early Years children really enjoyed exploring in the woods. They were trying to find autumn treasures to build houses with. They all worked well as a team and listened to each others ideas.